---
Proven. Efficient. Reliable.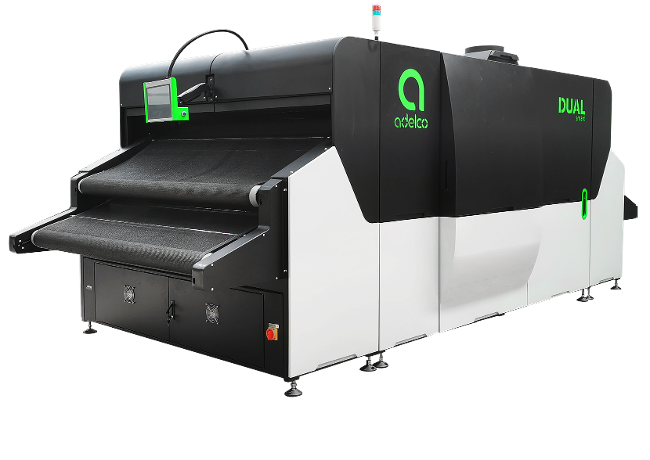 The world's highest production and energy efficient textile drying machine.
The Dual Smart dryer is the most technically advanced dryer on the market, curing digital inks in high volumes with such a small footprint. With ingenious features that will increase print quality for all textile ink systems and fabrics including transfers.
The Dual Smart is a double belt conveyor dryer with separate heat chambers, airflow and exhaust systems for the top and bottom conveyor belts.
Two dryers, one footprint.
The new Dual Smart reduces energy usage and downtime and is more intuitive with the printer.
The Adelco Dual Smart has a unique built-in extraction system on the infeed and outfeed for a cleaner working environment together with independent exhaust extraction from each conveyor to maximize the curing efficiency for heavily water-laden prints in both digital and conventional printing requirements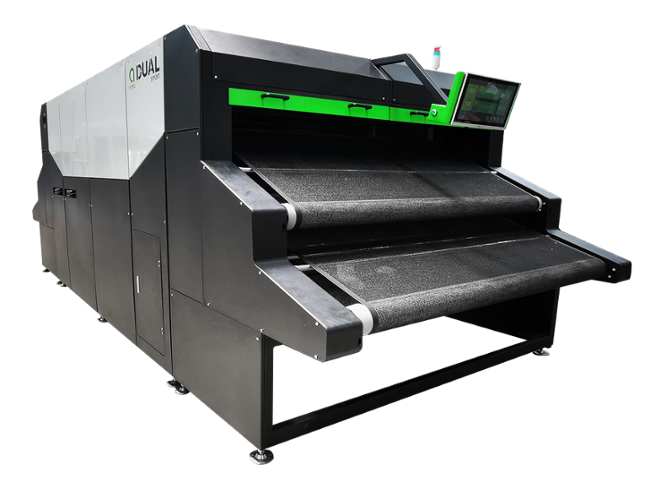 Independent Burners
These independent burners give the flexibility to run two completely separate print runs, be it screen or digital, at the same time. Very much like running two dryers side by side, but saving you space and time.
Ergonomically Position & Fully Adjustable HMI Control Interface
With an updated HMI control interface that is fully adjustable, and retractable for easy loading access.
This control panel is the gateway to a host of useful information, including:
Curing time and temperature history report.
On-screen temperature mapping (via optional temp mapping device).
On-screen fault finding and service instruction videos.
Belts & Rollers
The Dual Smart comes with the most durable and strongest belts on the market. They are also self-tensioning and self-aligning, making this one of the most reliable conveyor belts.
Our ground rubber-crowned conveyor rollers ensure reliable belt tracking, prevent slipping & prolongs conveyor life.

Full features and advantages of the Adelco Dual Smart
Two conveyor dryers in a single footprint
Digital touchscreen Interface
Independent burners, airflow, and temperature control over each conveyor level
Integrated vacuum hold down
On Screen Gas pressure display
Modular 3 meter and 4 meter oven lengths
Self-tensioning, self-aligning conveyor belts.
Ergonomically position control panel interface, retractable for easy loading access.
Easy Access Air filter cleaning.
Easy Access Infeed and outfeed extraction filter cleaning
Exhaust residue trap
Updated quick access UV flame detection system.
Rubber Covered Rollers enabling Nonslip conveyor.
Built in infeed/outfeed fume extraction system.
Curing time and temperature history report.
On screen Temperature mapping (via optional temp mapping device).
On screen Fault finding and service instruction videos.
Pit stop internal cleaning.
Easy to remove, tool free external panels.
Specs
| | |
| --- | --- |
| Touch screen | 15" HDMI Ergonomically position control panel interface, retractable for easy loading access |
| Electrical supply | 3 Phase 220V/380V/415V |
| Maximum electrical consumption | 7KW |
| Maximum BTU required | 250,000 btu / 7 meters cubed per hour (the heat capacity of our burners exceed the maximum supply used to ensure the most efficient and effective utilisation of heat) |
| Average BTU Consumption | 117,000 btu / 3.3 meters cubed per hour (calculated with a full belt of printed shirts, in production) |
| Time from ambient temp to 160°C (320°F) | Approximately 15 minutes |
| Production - DTG Print (Black Shirts) | @ 3 mins - 520 per hour @ 8 mins - 270 per hour |
| Production - Screen Print | @ 1 min 2160 per hour |
| Max Airflow | 8,500 CFM Air Speed: 26 m/s RPM: 1230 |
| Exhaust Diameter | (12"BSP)300m |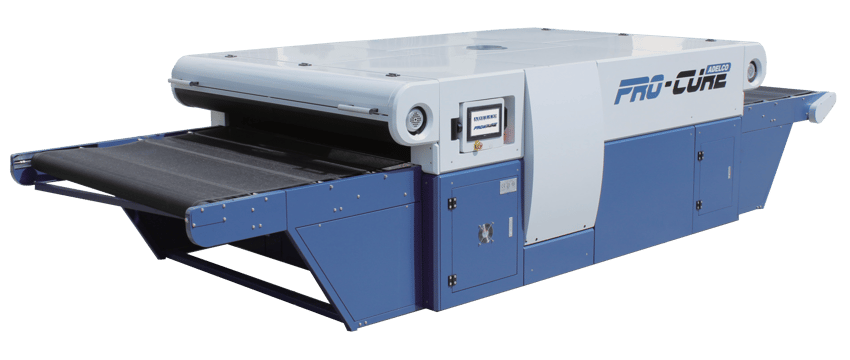 The most technically advanced and most efficient garment conveyor dryer on the market
The new Adelco Pro-Cure conveyor dryer range is available in five belt widths and five oven lengths, so you can customize your dryer to suit your individual curing requirements, for all digital and conventional textile ink systems. The Pro-Cure is modular in design, making it the perfect option to add additional ovens to the dryer as your business grows.
Designed and specified for advanced textile curing, the Pro-Cure tunnel dryer has an efficient airflow and exhaust system, incorporating oven feed and exit extraction hoods to provide a cleaner working environment. As well as incorporating many of the popular features found in the Adelco Dual Dryer and our other drying machines.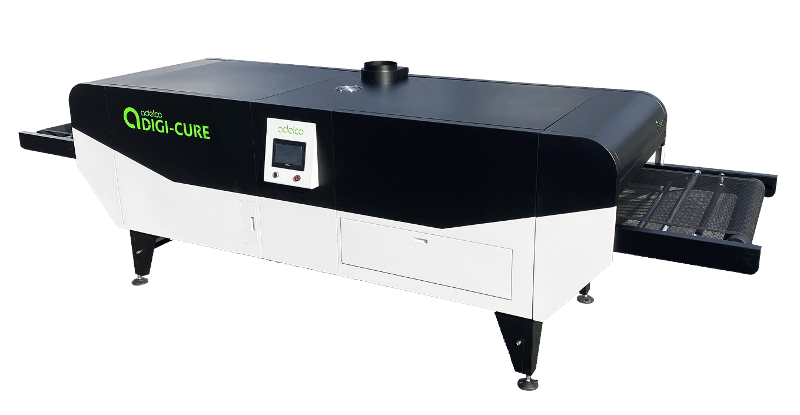 A small drying machine with big dryer features and performance
The Adelco Digi-Cure + is an updated version of the much loved and highly regarded, small but mighty Digi-Cure textile conveyor dryer. This solution is aimed at providing great value with excellent curing ability for all textile ink systems, both Digital and Conventional as well as Transfers.
The Digi-Cure + conveyor dryer is 2.6 meters long with a 90cm in-feed and 90cm out-feed, with a 80cm belt width.
"Ultimately, no matter how advanced the hardware or software systems in your production shop are, your max output still comes down to how many shirts you cure an hour."
IS an
ADELCO DRYER
Right for you?
Enter your info below and a Hirsch sales representative will contact you about adding an Adelco conveyor dryer to your printing business.