An all-in-one machine descended from high-end models
SAI was born from the voices of our customers
SAI is a compact embroidery machine packed with Tajima's technology and know-how. We developed it for people considering getting an embroidery machine who want to:
Make beautiful embroidery just like the professionals!
Embroider fast and steadily!
Have a compact machine that can be used in a small shop!
Have an easy-to-use machine!
Get a hard working embroidery machine for a small investment!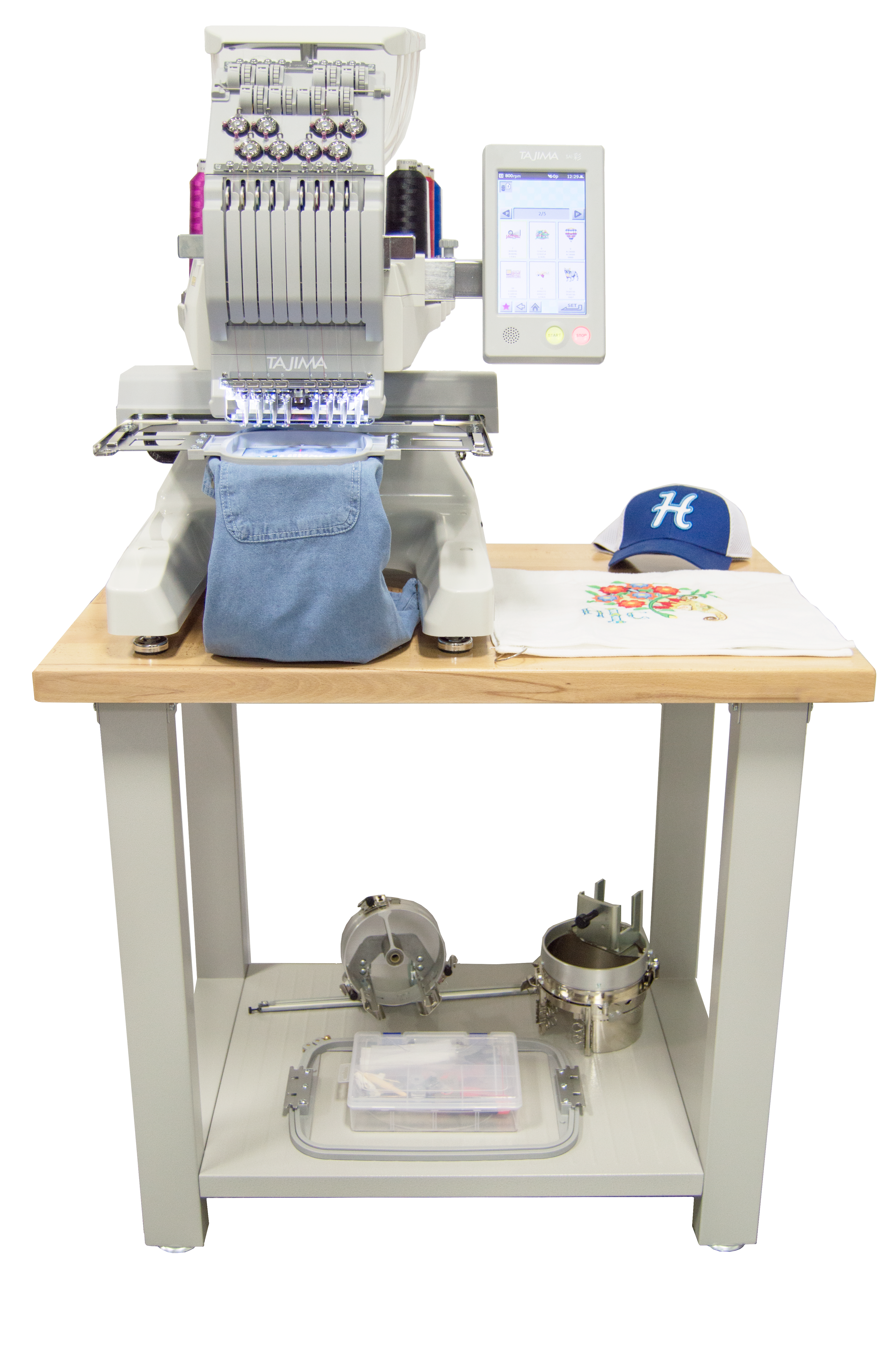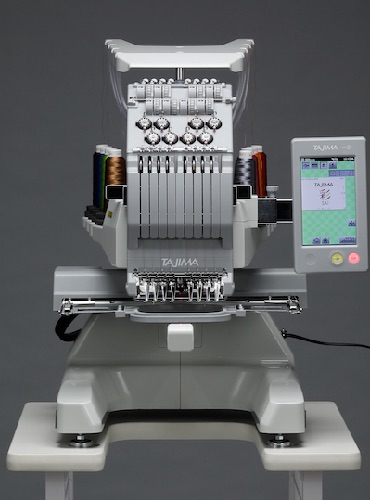 Sai
BIG Features with a small footprint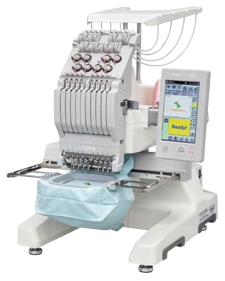 - 800 Stitches per Minute
- 8 needle embroidery machine
- Compact design for portability and tabletop ease
- Easy to learn and use 3 1/2" w x 6"h full color Touch Screen control panel
- Rotate designs and Select the design stop/start position on screen
- Large 11.8" w x 7.8" h (300mm x 200mm) tubular sewing field
- Large 11.8" w x 2.9" h (300 mm x 75 mm) cap sewing field
- Includes 2- 11.8" w x7.8" h (300mm x 200 mm) hoops, 2- 3.9" w x 3.9" h ( 100 mm x 100 mm) hoops,
2 cap frames with cap mounting gauge
- Crosshair laser marker for easy and accurate design placement
- LED lighted sewing field
- 6 integrated fonts to create on-board lettering for text and monograms
- Includes Tajima Writer Plus design software for Windows with built-in design templates, autodigitzer
and easy LAN machine connection capability
- Tajima Writer Plus is Upgradable to Tajima DG by Pulse products for advanced features!
The Laser Positioning System makes lining up your start point and tracing your design easier than ever before.
The Color LCD Control Panel is an easy to use touch screen interface. Programs jobs easily with just a few keystrokes; call up designs from memory for repeat jobs.
Tajima Writer Plus design software for Windows with built-in design templates, autodigitzer and easy LAN machine connection capability
You can attend online classes hosted by Hirsch digitizing specialists to become an expert at your Tajima software.

Start embroidering as soon as your SAI arrives.
SAI is an all-in-one package enabling you to start your business right away. Just follow your intuition to operate the touch panel, and the embroidery setup is all done. All you have to do now is push the start button. And even better, when you connect it to a PC using the Writer software included, you can embroider names in an instant!
The fantastic operability of not only the machine itself, but also the software, have been developed out of Tajima's design sense that has been honed in the real-world of embroidery. So, switching up to more powerful, higher-level machines is smoothly accomplished. Your initial experience will not be wasted, nor will the development of your business be held up.
8 colors cover nearly 90% of your needs
SAI is an embroidery machine that can work with 8 colors of thread. It's like using a color printer. You can make your product anything from colorful to chic by putting together the colors you want to use. In reality, when you are putting logos and names together to embroider, it's rare to need to use all 8 colors. What is important to note is the fact that when 8-color combination is available, more than 90% of your needs can be met. SAI enables you to start your business with peace of mind!
Two types of essential embroidery frames are included in the package as standard: Full-size and small. They support production of everything from towels and T-shirts to small accessories. Optional cap frames are also available.
*According to an in-house survey of about 4000 cases.
Wonderfully bold, yet subtle designs
SAI's distinguishing silhouette was created by Toshiyuki Kita, the designer of the first-generation AQUOS that kicked off the history of LCD TVs. He came up with a color and design which fit effortlessly into various environments. For instance, if you run the machine in a location where it is visible from outside your shop, it gives the shop a sense of movement and inspires interest in passers-by.
What's more, we added little twists here and there, such as arranging the thread cones vertically, to achieve the surprisingly compact form. In city centers, in particular, a shop is a valuable space not an inch of which can be wasted. It is a compact machine designed with consideration for your space as well.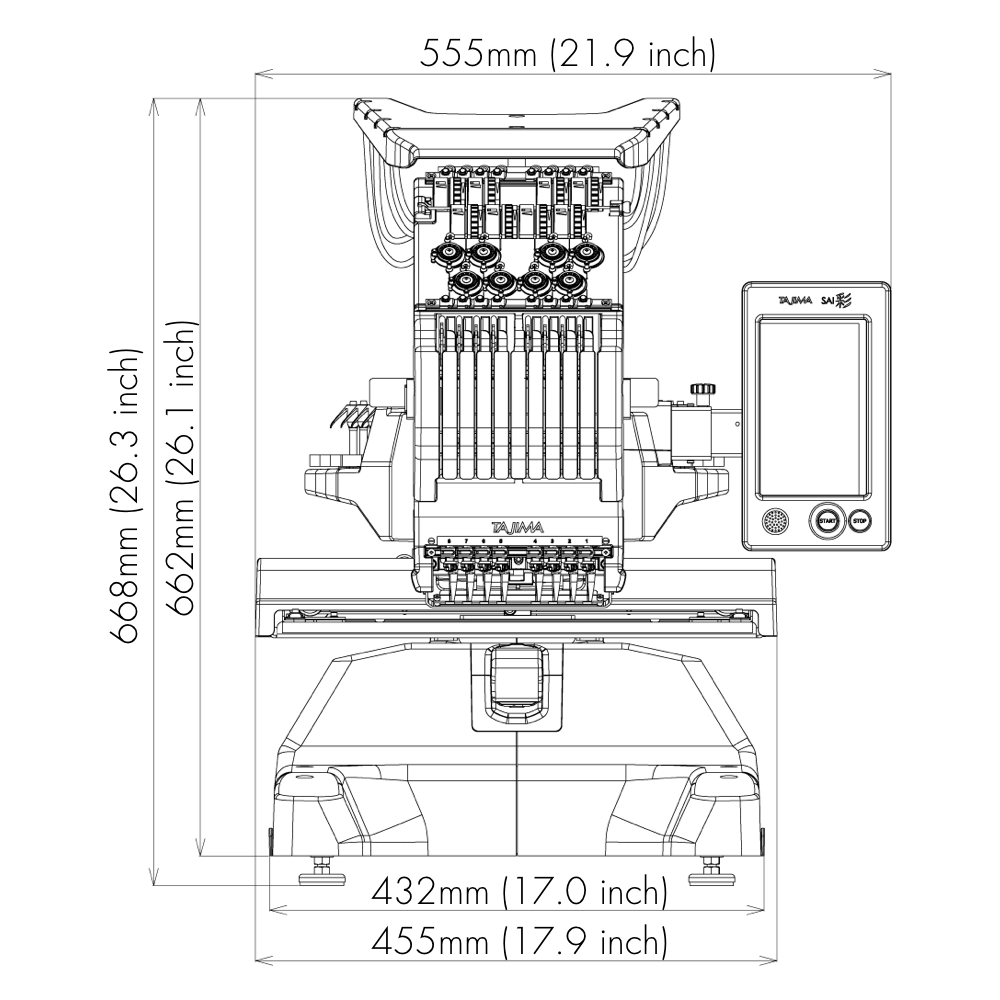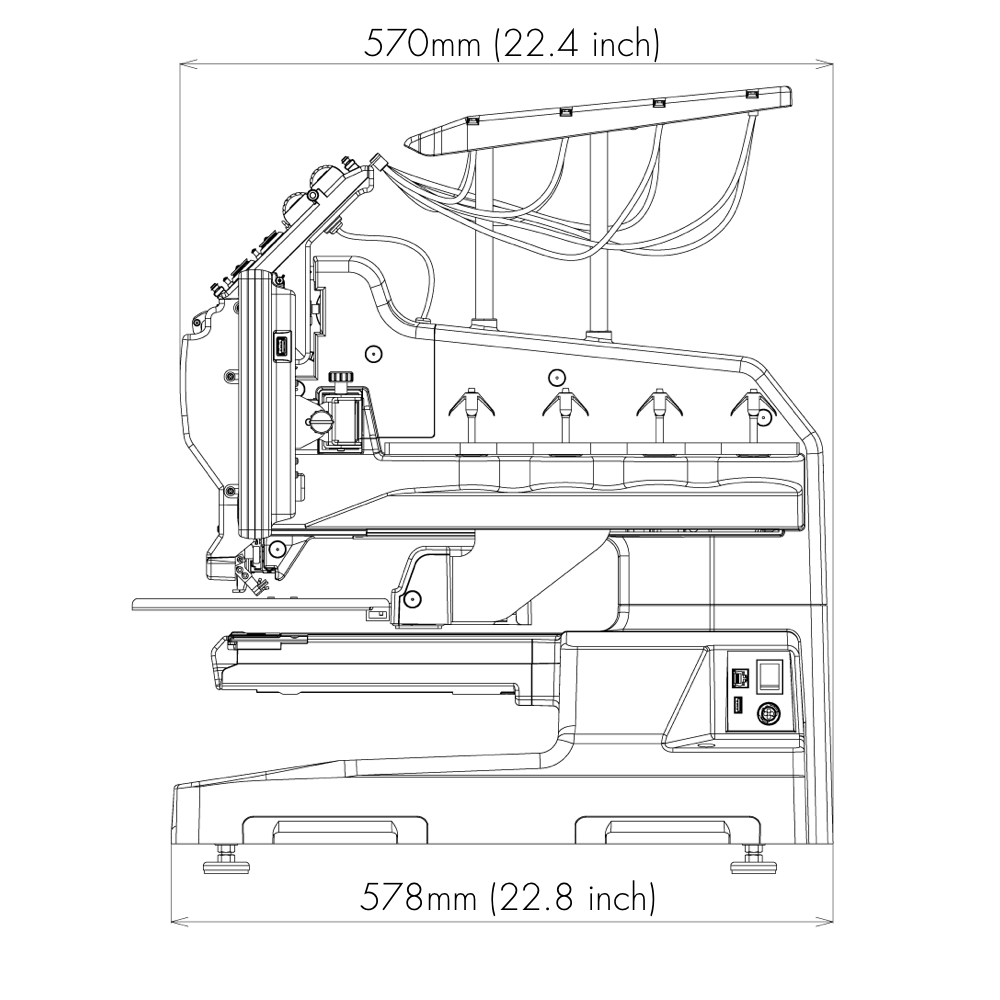 | | |
| --- | --- |
| Number of Needles | 8 Needles |
| Embroidery Area | 200mm x 300mm (7.8 inch x 11.8 inch) |
| Power Supply | 100~120V・200~240V(50/60Hz)(UL specification: 120V only) |
| Max.R.P.M | Tubular Frame: 800rpm Cap Frame: 800rpm |
| Weight | 37kg (82 lbs)(NET) |
IS the SAI for you?
Enter your info below and a Hirsch sales representative will contact you about adding Tajima SAI to your business.