TMBP2-SC1501
The TMBP2-SC Series from Tajima Embroidery has once again raised the bar for single-head embroidery machines. A newly designed slim cylinder allows for embroidery on challenging items such as small pockets and socks. The cap driver has its own shaft which allows for high-speed cap production with precision results. Additionally, the TMBP2-SC has a streamlined Cubical Frame Design which has no sides allowing the TMBP2-SC to embroider on oversized jackets, blankets, or large duffel bags as well as polo shirts and caps. The large-scale 12.1-inch control panel is equipped with quick touch icons for your most used functions, making operation easier.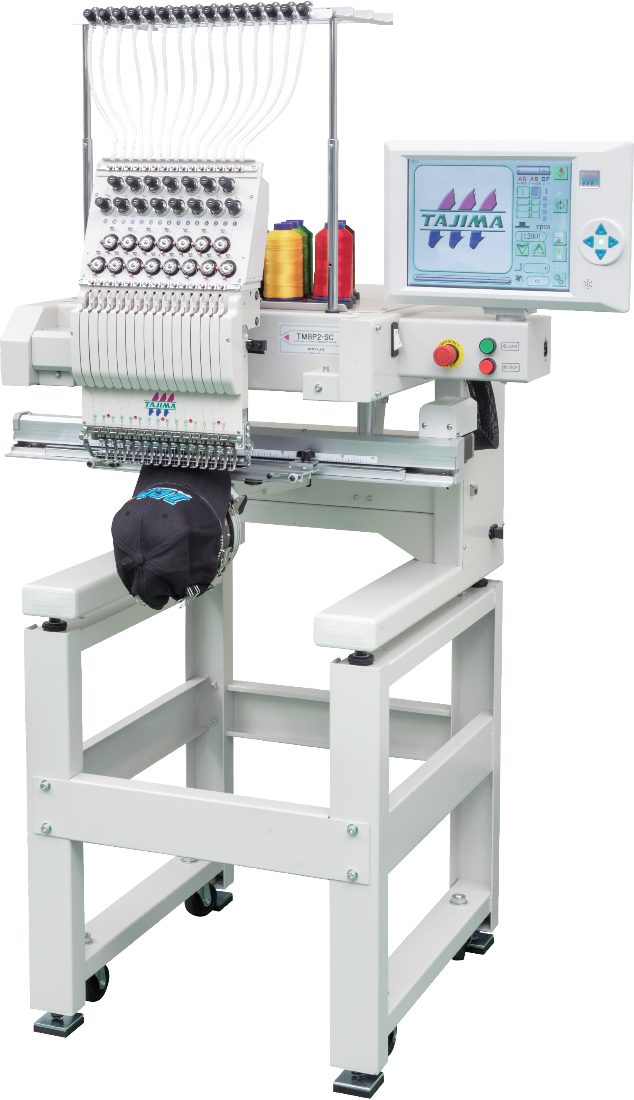 Equipped with the industry's largest touchscreen
The large-scale 12.1-inch operation panel is equipped with various convenient icons and multilingual displays.
A touch panel allows more intuitive operation.
Greatly increased memory capacity!
Maximum Design Storage - 650 designs
Maximum Stitch Count - 40 million
Slim Cylinder makes it possible to embroider on smaller products such as socks, gloves, and pockets.
The cap driver incorporates a lower shaft and a third locking pin to stabilize the cap during embroidery to enhance quality, and run at higher speeds.
Design Position Adjustment
Design Position Adjustment feature allows a design to follow any reference line of your choice ensuring perfect alignment every time.
The Thread Locking System secures the thread after a trim to help prevent the thread pulling out during needle startup.
A shorter distance between the needle hole and the edge of the trimmed needle plate offers an increased embroidery area on many items.
A red dot projected above the needle hole helps identify the actual embroidery area when tracing the design before stitching.
The LED Needle Base Light illuminates the needle area and provides the operator a better view of the item being embroidered.
The Steeper Tilt Head angles the bill of a cap more which allows stitching closer to the bill and increases the embroidery area.
You can attend online classes hosted by Hirsch digitizing specialists to become an expert at your Tajima software.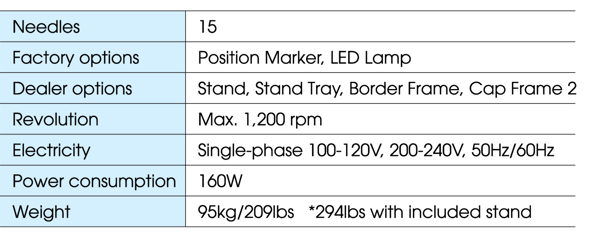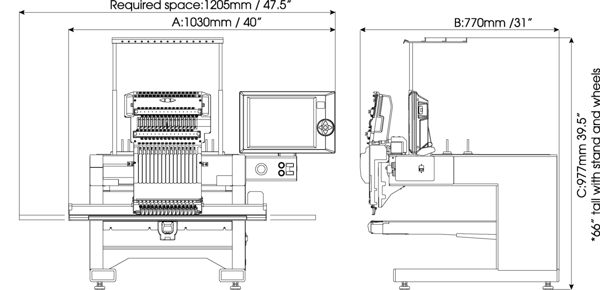 IS the
TMBP
right for you?
Enter your info below and a Hirsch sales representative will contact you about adding Tajima TMBP-1501 to your business.