---
Folding machines that deliver.

T-Apparel Pro III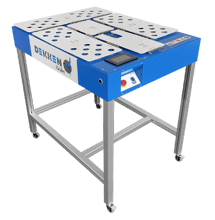 Kolibri

Drop Sealer
The Kolibri is a 100% Electric folding machine, a simple power plug is all it needs as supply, no compressed air.

It is very compact (tabletop size, surface area of 28x38 in).

It can fold T-Shirts, Polos, Hoodies, Pants,…. We can fold cotton and also polyester with it.

It comes with 6 pre-made programs so that the machine is plug-and-play. But the customer can also edit these programs or make his own programs in one of the empty slots (total capacity of 12 programs).

Each program has a semi-automatic bagging feature (see video).

Built-in is a production counter, and a preset function (the customers sets the batch size e.g. 100 and the machine will give a message after 100 folds).

All components are maintenance-free and industrial grade.

The machine can come as stand-alone or optional with the stand or with the stand and bag-holder.
Custom Programs
The Kolibri lets you create up to 12 custom folding programs with the intuitive User-Interface. This gives you full control over your machine and ensures that you can always fold in the best and most efficient way possible.
Flexible Packaging
The semi-automatic bagging can be turned on or off for each folding program.
You choose which bag you want to use. The standard folding format allows a lot of flexibility and keeps the procurement costs low.
Keep Track, Stay Productive
Stay productive, save time normally lost in manual-folding, and use it more efficiently.
Keep track of your production by reviewing the built-in counter that shows you how much you've folded.
Plug and Play
Unpack. Plug-In. Fold.
The Kolibri is easy to set up and requires no special tools or compressed air.
Installation is simple. The user interface is intuitive and minimalistic, while still giving you full control.
Built to last
Built-in are high quality components including high-speed stepper motors, an industrial Controller, steel hinges and mechanisms with maintenance-free bushings, all held together by a sturdy steel frame.
The new Kolibri is the most compact textile folder in the Dekken family. It is powered exclusively by electricity.
A simple plug is all it takes to fold efficiently and precisely.
Easy.Electric.Reliable.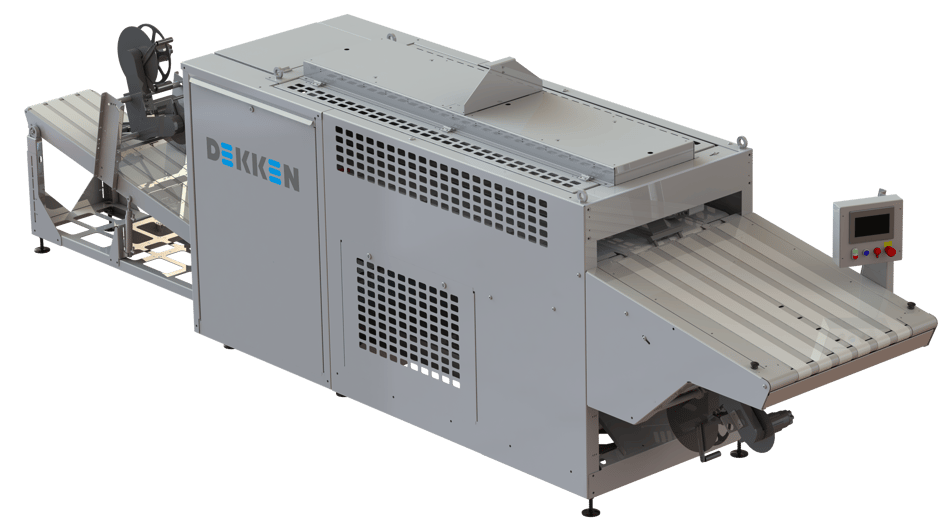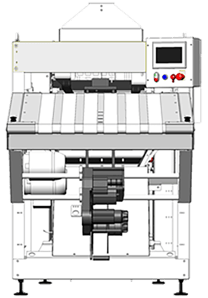 The T- APPAREL is able to make all kinds of folding patterns. After feeding the piece enters the lateral fold section. The lateral folds are made by air in combination with position controlled folding templates. The length of each piece is measured automatically for highest folding result. The controlled roof position insure folding of thick/stiff textiles as well as lite and slippery textiles and dry-fit. The long lateral fold section allows all sizes to be folded. After the lateral fold section, the piece enters the cross fold section. Up to 2 cross folds can be made, offering all kinds of folding patterns. In order to secure stable and high quality folds, both cross folds are made by air assisted reversing belts. Tight folded pieces are obtained as pieces are continuously kept between belts. The elastic belts ensure that the cross fold automatically adapts on thin as well as thick pieces. These belts are also pressing the piece, creating a tight folded result.
The Dekken T-Apparel Pro III is the most versatile folding machine on the market today. Boasting a complete solution from size labeling to bar code scanning it can easily fold short or long sleeve items of all types including t-shirts, sweatshirts, hoodies, and a variety of men's, ladies, and kids tops and bottoms. Easily change from one type garment to the next with no mechanical adjustments needed.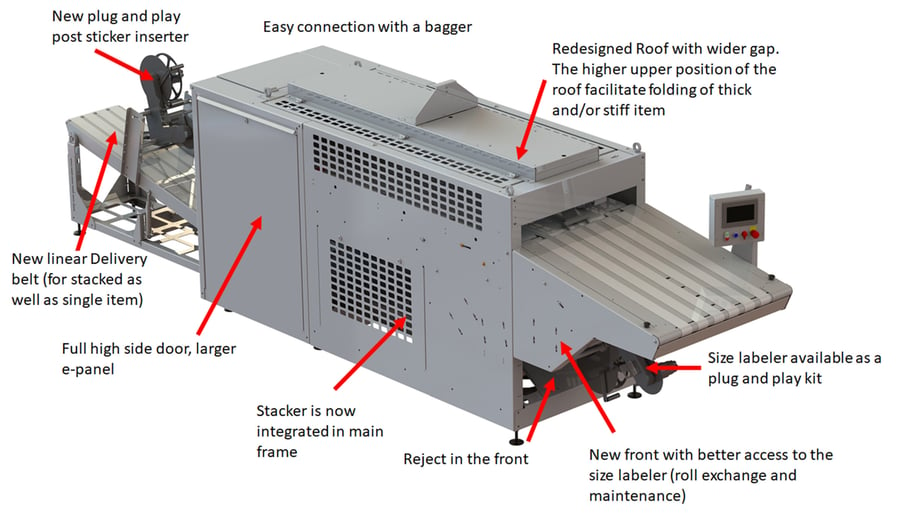 IS A DEKKEN
Right for you?
Enter your info below and a Hirsch sales representative will contact you about adding a Dekken folding or bagging solution to your business.