---
Multiply your profit
Multi head Key Features
With a diverse line of robust multi head embroidery machine options, Tajima has a machine to solve every problem big or small.
Get a Quote
The slim cylinder makes it possible to embroider on smaller objects such as socks, gloves, and pockets.
The new cap driver incorporates a lower shaft and a third locking pin to stabilize the cap while running to enhance quality, and run at higher speeds.
The steeper head angles the bill of any cap and allows for placement closer to the brim increasing the embroidery area.
A sensor monitors the thread movement while stitching. If the tension on the upper or lower thread is broken the machine stops stitching relaying an error on the controller.
A beam surrounds the work area while machine is in motion. If the plane is broken the machine will immediately stop.
The thread locking system secures the thread after a trim to prevent the thread pulling out during start.
LED needle base light illuminates the needle area and enables the operator a better view of the item being embroidered.
A shorter needle plate offers an increased embroidery area on many items such as small sleeves or caps.
Standard vs Stretch
Head interval refers to the space from one head to the next. Standard machines refer to machines with 360mm (14") head interval and stretch for machine that have a 500mm (19.6") head interval. A larger interval makes is easier for larger, bulky products to fit comfortably between heads and a larger x-axis embroidery field.

360 MM Head Interval
The standard 360 MM head interval machines are ideal for producing a standard mix of products that are not limited to caps, shirts, sweatshirts, jacket backs, and infinitely more.
500 MM Head Interval
The 500mm head interval provides more space between heads which makes it easier to accommodate larger, bulky products such as sweatshirts, jackets, blankets, etc.. This setup is ideal for customers who do a larger percentage of these types of items and can accommodate the larger machine size.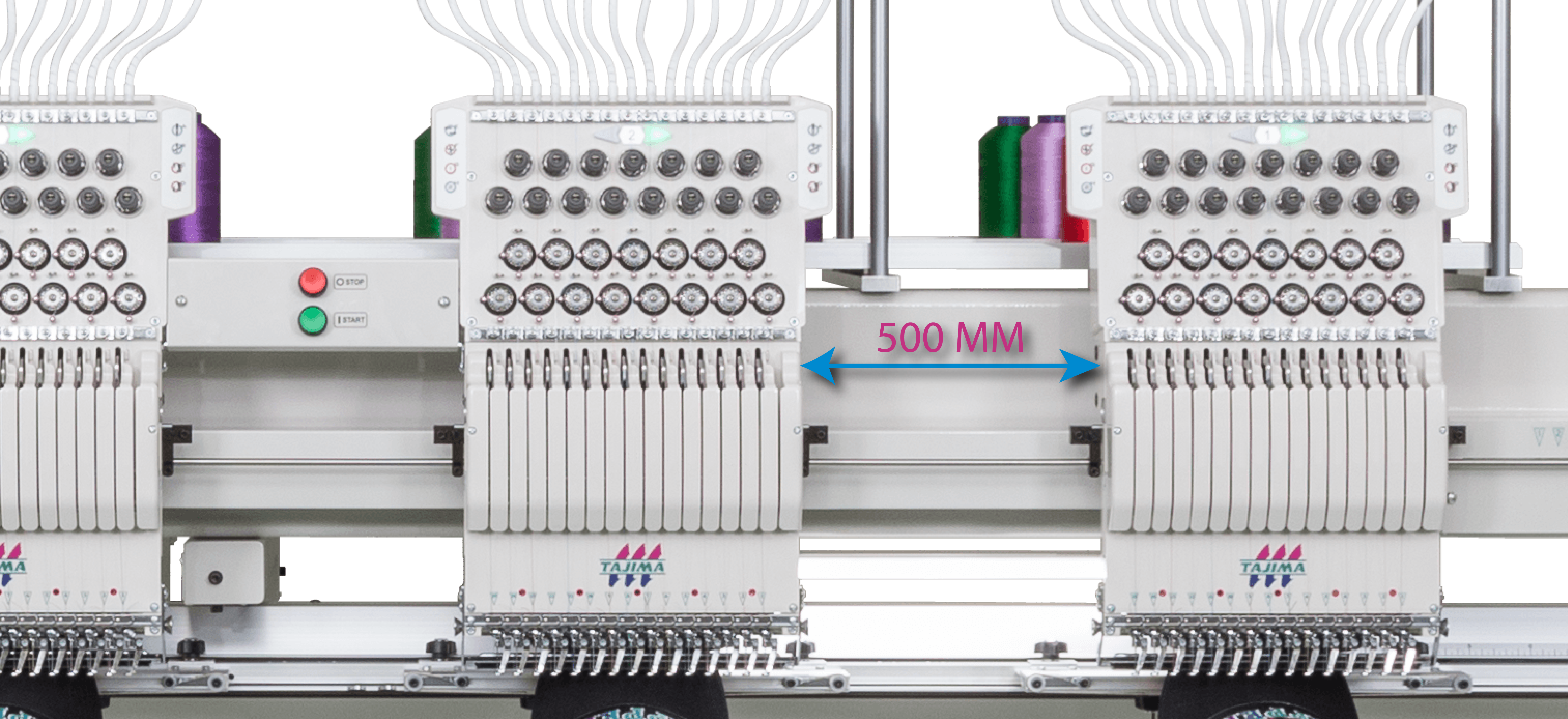 TMEZ-KC
Tajima's smartest embroidery machine is now available in multi-head configurations
Get a Quote
TMEZ
The future of Embroidery
Embroidery machines have been taken to the next level through the TMEZ. Backed with all the power of Tajima the TMEZ-KC takes the embroidery industry and its users by storm. This feature-packed machine is your business's next best investment, taking the guesswork out of each job.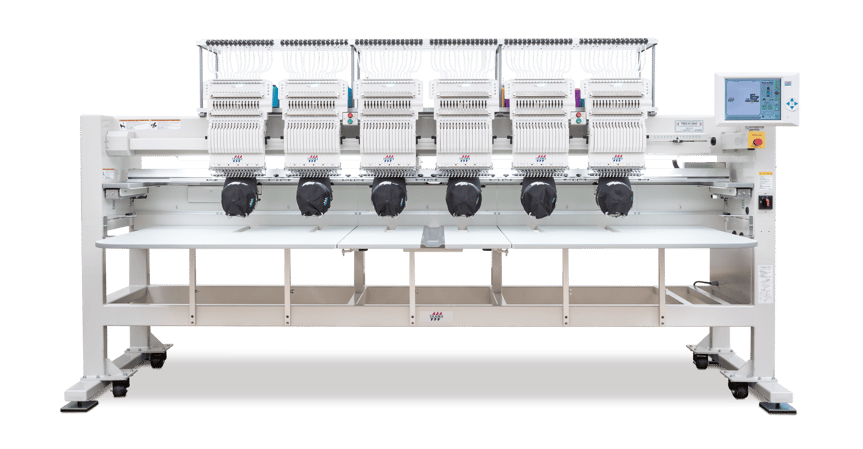 Intelligent tension management or i-TM, automatically adjusts tensions for stitch type, garment thickness, and presser foot height.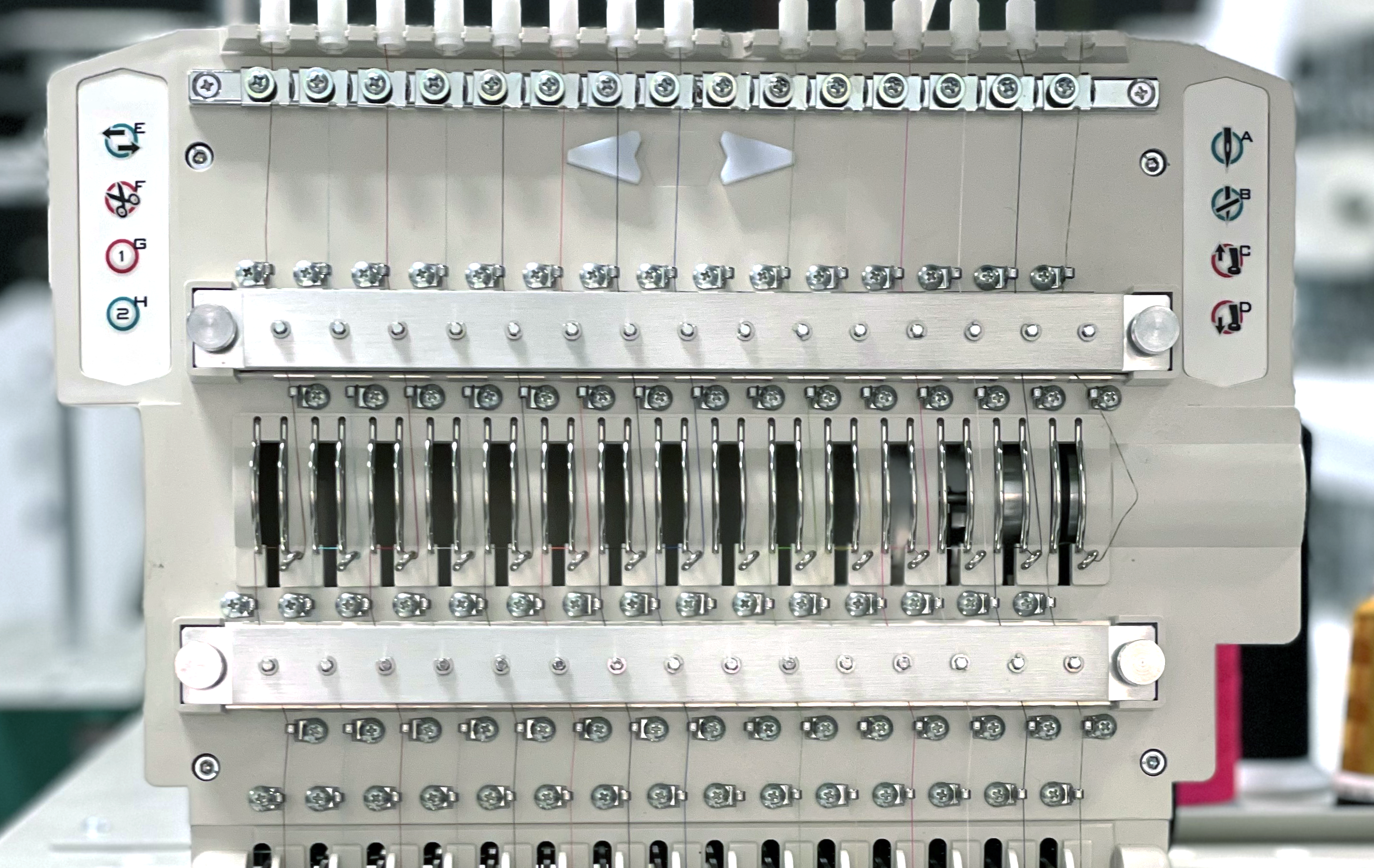 The digitally-controlled presser foot can be adjusted for each needle bar to control pressure according to fabric.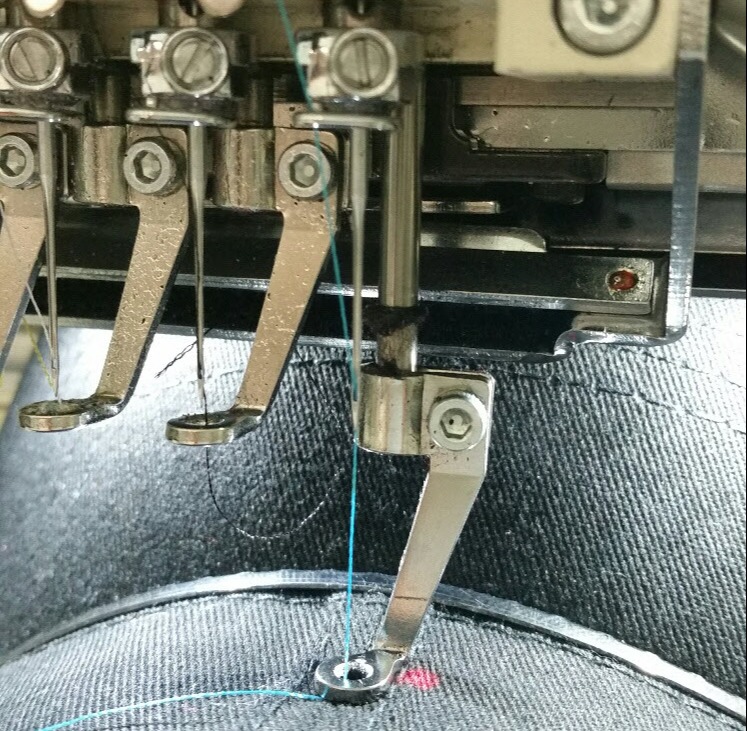 Setup and store designs in folders for easy management. Edit, resize and rotate designs at the machine. Intuitive production feedback, such as needle location during sewing, and more.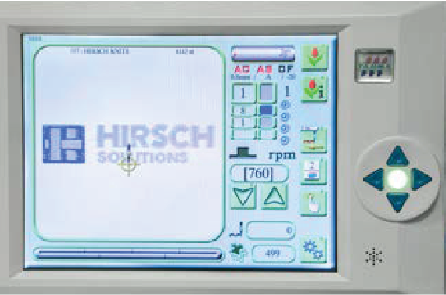 | No. of Heads | Head Interval | Cap | Tubular | Dimension |
| --- | --- | --- | --- | --- |
| 2 | 500mm | 3"x 14.2" | 17.3"x 16.5" | 89" W x 53.3" D x 68.1"H |
| 4 | 500mm | 3" x 14.2" | 17.3" x 11" | 100.5" W x 53.3" D x 68.5" H |
| 6 | 360mm/500mm | 3" x 14.2" | 17.3" x 11"/17.3" x 16.5" | 129.1"W x 53.3"D x 67"H/ 167.7"W x 53.3"D x 68.5"H |
| 8 | 360mm/500mm | 3"x 14.2" | 17.3"x 11"/17.3"x 16.5" | 157.5"W x 53.3"D x 68.5"H/207.1"W x 53.3"D x 68.5"H |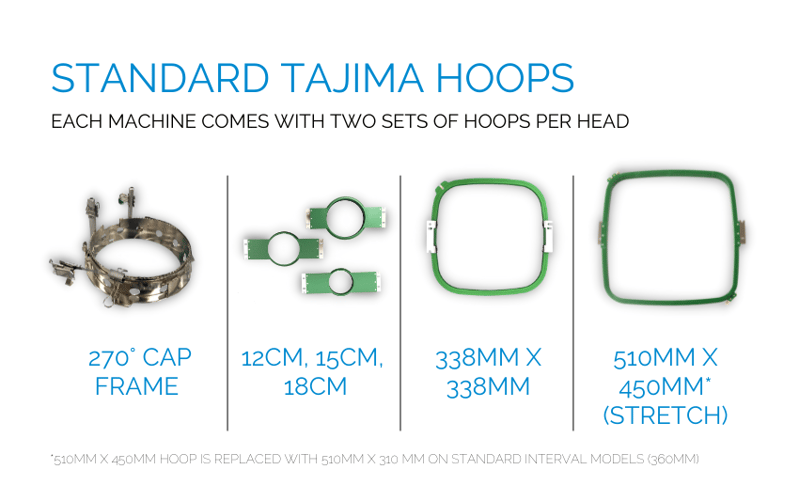 TMAR-KC
Take your hat game to the next level with the perfect feature combinations for all your garment needs
Learn more
TMAR-KC
The future of Embroidery
The ultimate model born from the Tajima technology evolution. The Tajima Cylinder Arm Type TMAR-KC Series is born. The embodiment of Tajima's technologies with high production efficiency, ultimate quality, overwhelming durability and performance.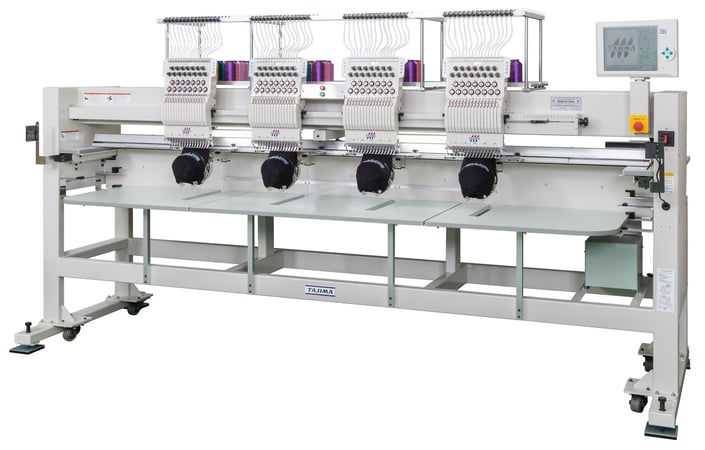 Technology for Elaborate Embroidery Detail!

A newly developed digitally-controlled presser foot that can adjust its bottom dead center and each stroke for each needle bar (color change) has been specifically designed for the TMAR-KC Series. Quickly and electronically control the height of the presser foot to provide the precise presser foot height for specific materials. Great for delicate materials such as silk or leather and significantly improves production of 3D Puffy Foam.
EASY Maintenance!
By introducing the crank drive, a new driving system, into the embroidery machine head, overwhelming durability has been realized. Also, maintenance has become simpler, and the lubricating frequency has been reduced to one-twentieth (once in 6 months)
Touch-Operation Display!
This display is equipped with an intuitive, easy-to-use operation panel with easily identifiable icons and a high-capacity memory that can store up to 40 million stitches or 650 designs
Various operation switches are located on the each head. Since all of the main functions of the operation panel can be manipulated in front of each head, the working efficiency of operators has been improved.
12.1-inch TFT touch panel
The large monitor allows intuitive operation of the panel.
Digitally controlled presser food can be adjusted for each needle according to the product thickness. When the needle moves up the presser foot lags behind to reduce fabric flutter.
| No. of Heads | Head Interval | Cap | Tubular | Dimension |
| --- | --- | --- | --- | --- |
| 2 | 500mm | 3" x 14.2" | 17.3" x 16.5" | |
| 4 | 500mm | 3" x 14.2" | 17.3" x 16.5" | 129"W x 54"D x 69"H |
| 6 | 360mm/500mm | 3" x 14.2" | 17.3" x 11"/17.3" x 16.5" | 130"W x 54" D x 69" H/168"W x 54" D x69" H |
| 8 | 360mm/500mm | 3" x 14.2" | 17.3" x 11"/ 17.3"x 16.5" | 158"W x 54" D x 69" H/207"W x 54"D x 69"H |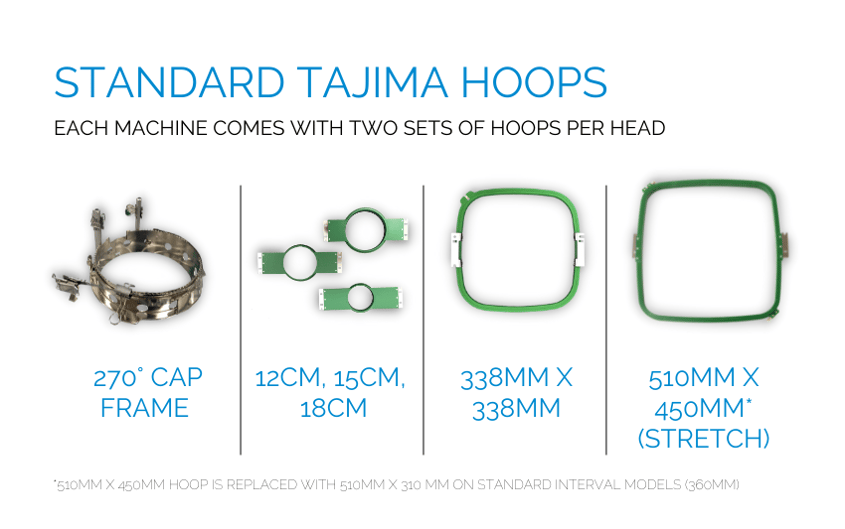 TFMX-IISC
Series
The Tajima TFMX series incorporates a slim cylinder and a versatile cap system into Tajima's proven TFMX series product line. Tajima embroidery machines are designed for reliability, top quality stitching, and efficiency.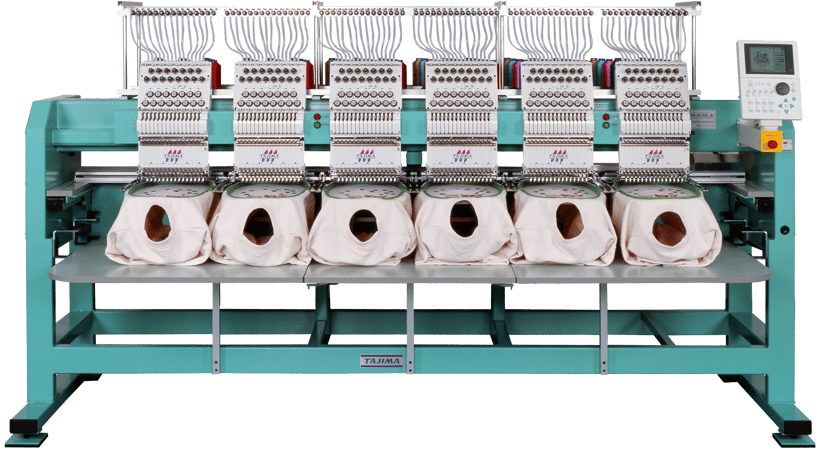 Each individual cap driver incorporate a lower stabilization shaft and a third locking pin to achieve higher quality embroidery run at higher speeds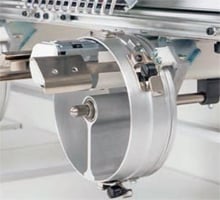 Covers mounted over the take-up levers prevent thread from tangling during high-speed production and improved all around safety.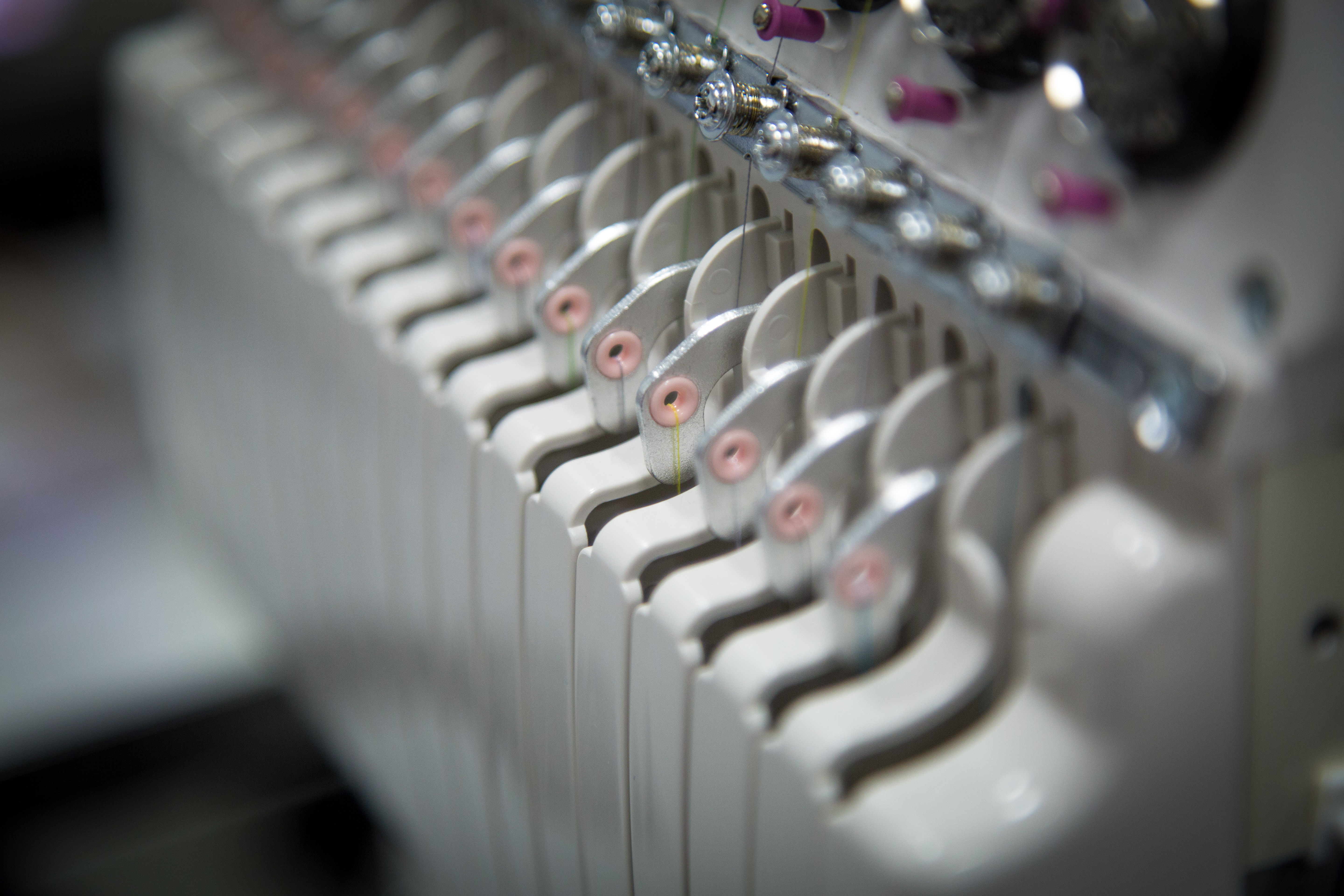 The take-up spring picks up excess thread and stabilizes the balance of upper and lower threads at high speed while improving thread tension.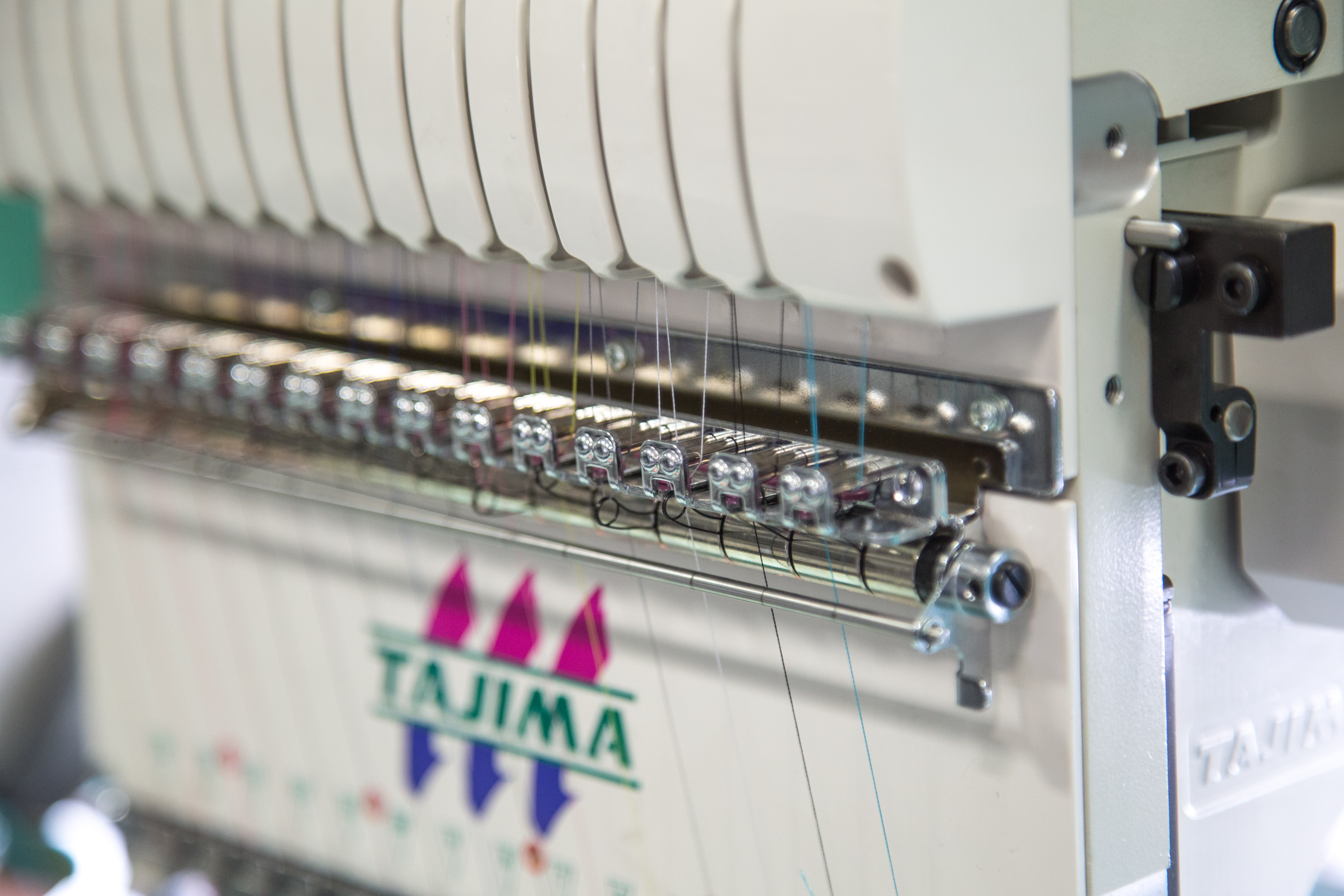 | No. of Heads | Head Interval | Cap | Tubular | Dimension |
| --- | --- | --- | --- | --- |
| 2 | 500 mm | 3"x 14.2" | 17.3"x 16.5" | 73"W x 50" D x 65"H |
| 4 | 500 mm | 3" x 14.2" | 17.3" x 16.5" | 112"W x 50"D x 67"H |
| 6 | 360 mm/500mm | 3" x 14.2" | 17.3" x 11"/17.3" x 16.5" | 114"W x 50"D x 67"H/ 154"W x 50"D x 67"H |
| 8 | 360mm / 500mm | 3"x 14.2" | 17.3"x 11"/17.3"x 16.5" | 144"W x 54"D x 69"H/193"W x 54"D x 69"H |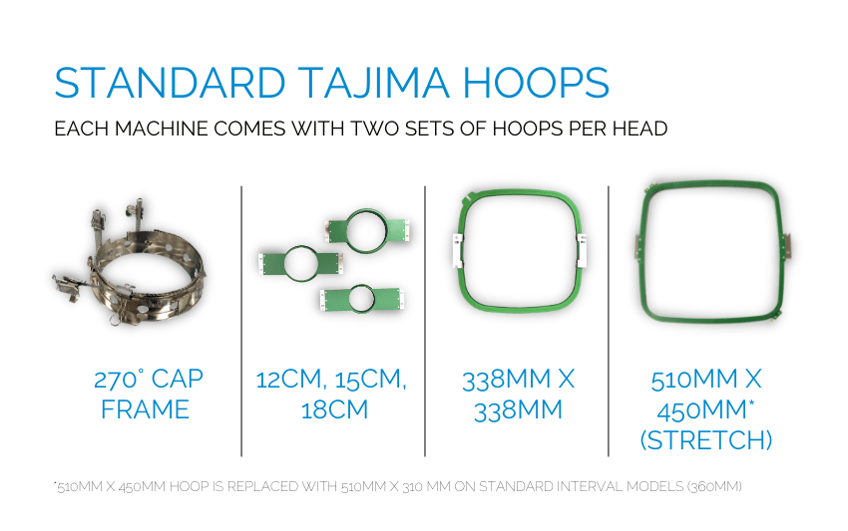 TMAR-VC1512
If you are doing high volume embroidery, the Tajima TMAR-VC (TMAR-V1512C) is a state-of-the-art multihead embroidery machine that delivers consistent, trouble-free sewing for maximum output. With its digitally controlled presser foot that adjusts for the thickness of the fabric being sewn, you are assured higher quality, less thread breaks, and overall smoother performance than you have ever experienced. The Tajima TMAR-VC (TMAR-V1512C) is the perfect machine for specialty fabrics and applications such as caps and three-dimensional foam.

TMCP
This series is based on the arm bed structure for lock stitch sewing machines and is the optimum for embroidery on finished products like T-shirts, caps or pant legs. Frames can be exchanged with ease to meet urgent orders. This series, having superior cost performance, provides you with more comfort to meet the customers' needs. Also available in multiple configurations.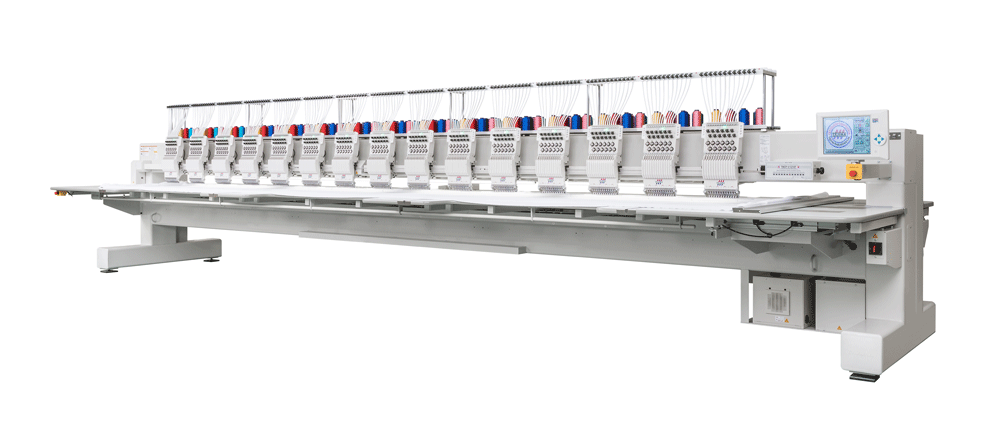 TMCR
A step up from the TMCP Series, the TMCR Series has brought both high quality and cost reduction to reality, and added the same quality control guarantee for the most sophisticated garments and materials such as silk, leather, puff foam, and more. Innovative technologies like the digital presser foot (DCP) and fine stitch mode put high-end decorations in closer reach on a large scale.