Have you thought about expanding your DTG business?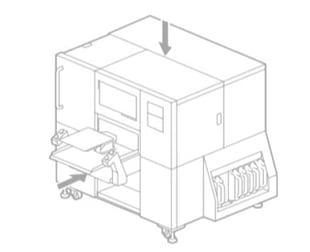 Contact Hirsch for all your growing needs.
INDUSTRIAL CONSTRUCTION
Made for mass production, the GTX600 is industrial in design. Built for durability from the ground up, each machine is capable of running multiple shifts per day, 7 days a week, while producing high quality prints.
Size - 73.23" x 81.10" x 57.48"
Weight - 1,609 lbs (without ink or cleaning solution)
Electrical - 208-220V, 5 Amps; 50/60 Hz
Solid steel frame with industrial casters for easy movability.


BROTHER DTG PRINT HEADS
With over 15 years of experience as pioneers in the direct to garment printing decoration industry, we know how valuable a tireless print head is to production. Utilizing the 5th Generation print heads in the GTX600, you can expect longer print runs with less waste*, saving you time and money.
Brother manufactured, 5th generation print heads
Four print heads; 16 channels
Internal cooling fan for longer print runs


HIGH PRINT QUALITY
Offer unparalleled print quality on a variety of style of artwork and garments. From photo quality realism, to designs that call for a distressed or weathered finish, the GTX600 offers four print resolutions to fit each piece's specifications. Being able to control resolution provides the ideal balance of print quality and print speed for each product's needs, yielding accurate, efficient print operations.
INTELLIGENT PLATEN MECHANISM
Save time and costly mistakes with the GTX600 intelligent platen system. In concert with Brother's optional SDK, the scan of a barcode on items automatically tells the printer the necessary platen height needed for that garment, and the printer adjusts accordingly. The result is finished products that are precise, consistent, and designs that are correctly adjusted for the specifications of each item in an order, making mass production much easier.
AC servo motor with screw drive and solid linear rails
Electronic platen height adjustment and automation availability


VARIETY OF PLATEN SIZES
Expand your offerings with the GTX600's wide variety of available platen sizes. From newborn onesies to XXL size garments, artwork can be perfectly resized and proportionate to the garment being printed on.
A large potential print area of 24"x24" means you can take mass production to a greater variety of garments, and our easy to use, quick-change platen systems allow for minimal downtime when switching from one platen to another.

ADVANCED INK SYSTEM
Mass production means greater demands in quality and quantity of inks at the ready. With large ink tanks - 7.2 liters of white and 4.3 liters of CMYK - the GTX600 stays at the ready to execute whatever the design demands. Our system is equipped with filtration and degassing features built right in, making sure that when inks reach the print heads they are in their ideal state. The white ink circulation in four key areas ensures that the Titanium Dioxide in the white ink tank stays in suspension, yielding brilliant print quality building off a strong base layer.
INNOBELLA TEXTILE INK CHEMISTRY
Take your prints and designs beyond what you ever thought possible in direct to garment printing. With Innobella Textile Inks, finished pieces are vibrant and bold — all with color finesse and design accuracy. When printing and curing pieces with the GTX600 and Innobella Textile Inks, you can be sure it not only looks great upon arrival to your customers, but also that the design will be durable and washable without losing its look. Innobella Textile Inks have scored a 4.0 or higher on ATCC wash tests. And you can feel good about the environmental aspect of your inks as well — GTX600 inks and pretreatment products are water-based, ECO PASSPORT by OKEO-TEX® certified, CPSIA compliant, and hold GOTS 6.0 certification.
INDUSTRIAL MAINTENANCE STATION
Designed to keep up with the multiple shifts associated with mass production, the GTX600 is built with industrial grade parts that need less frequent replacement or maintenance, resulting in less downtime*. The GTX600 also has automated self maintenance features that help ensure every print stays pristine, no matter where it is in the queue.
Automatic wet capping station keeps the bottom of the print heads ready to print.
Always wet wiper blades help keep the bottom of the print head clean and free of debris.


ENVIRONMENT CONTROLS
Managing the environment on the production floor can be a challenge, especially with seasonal changes and large spaces. The GTX600 helps mitigate this challenge by controlling key environmental conditions within itself, allowing higher production throughput and reduced waste. Internal thermostats and hygrometers keep an eye on the internal conditions of the printer, and will notify the operator of any changes that would result in sub-optimal production.

Integrated humidifier helps to maintain the ideal printing environment and reduce running costs.
Built-in mist filters dramatically reduces airborne particles within the printer to protect key components and improve air quality.



Achieve over 50 prints per hour
Variable resolution output modes
Maximum print area up to 24" x 24"
IS the
GTX 600
for you?
Enter your info below and a Hirsch sales representative will contact you about adding the Brother GTX 600 to your DTG business.