Innobella Textile eco-friendly inks are available in 1.8 liter, and 18 liter sizes. The price range per cc is $0.12 - $0.22 depending on which size and how much you purchase.
With Brother's 2 year warranty you can focus more of your time and money on growing your business.
With Brother's 2 year warranty you can focus more of your time and money on growing your business.
Brother manufactures their own print heads, and has engineered them to include internal circulation which reduces waste, and increases speed.
Have you thought about expanding
your DTG business?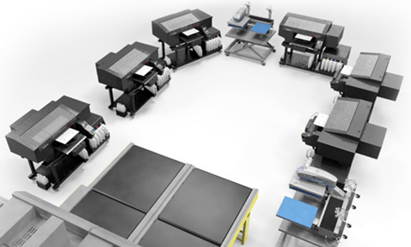 Contact Hirsch Solutions for all your growing needs.
Printing Method
Direct inkjet garment printer
Machine Size
70"(W) x 51"(D) x 48"(H) (1780mm x 1300mm x 1210mm) With recommended stand
Machine Weight
Approx. 364 lbs. (165kg) including platen (not including stand)
Included Adult Platen
14" x 16" (35,6cm x 40,6cm)
Maximum Print Size is
16" x 21" / 40,6cm x 53,3cm
Ink Delivery
Advanced Ink System
Ink Type
Water-based pigment ink
Number of Print Heads
2 Print heads: 1 for White Inks, 1 for CMYK Inks
Print Mode
Single or double for CMYK. Underbase and highlight for white.
Environment
Power supply
AC 100V-240V, 50/60Hz ± 1Hz
Power consumption
0.8A(average) (Reference: 0.4A – during circulation)
Ink cure
Heat press machine can be used at 356°F (180°C) and 35 seconds duration. For higher volume production, a conveyor oven is recommended to be used at 320° (160°) for three and a half minutes. Time and temperature may vary depending on which manufacturer's dryer is used.
Pre-treatment
Before printing, apply pre-treatment using either a manual or automatic device and then dry garment using a heat-press, being sure to follow all manufacturer's instructions. Pre-treatment is necessary for white ink.
OS
macOS® Mojave 10.4 to macOS Big Sur 11.4, Windows 8.1 (64-bit), Windows 10 (64-bit)
Interface
USB2.0, LAN(10BASE-T, 100BASE-TX, 1000BASE-T),
USB Flash Memory(Under 32GB, FAT32 format)
Driver operating conditions
2GHz CPU (minimum recommendation)
4GB RAM
Display resolution
XGA(1024x768) (minimum recommendation)
Recommended applications
CorelDRAW® 2018/2019 (Windows), Adobe® Photoshop CS6/CC, Adobe® Illustrator CS6/CC
Bring your prints to the Pro Level
The GTXPro Direct to Garment printer puts more features, more flexibility, and more capabilities into your bag of printing and decorating tricks. It works harder for you, so you can work harder on growing your business and tapping into new markets.
Print with Speed
The quicker you get products to market, the sooner you can start turning a profit. The GTX Pro gives you the power to produce prints faster than ever before, giving you a distinct competitive advantage.

Print with Precision
Never sacrifice print quality for output speed. With a print resolution of 1200 x 1200 dpi combined with cutting-edge Innobella inks, your designs can incorporate the entire color spectrum and even minute details will print with fantastic clarity.

Print in One Pass
With the white ink channels stacked right behind the CMYK channels, you can print almost anything in a single pass.

Print with Simplicity
Being easy to use and maintain is one of the most important features of the GTX Pro. The improved wet capping station minimizes clogged nozzles and the white ink circulation system keeps the system primed and ready to print.

Print Practically Anywhere
The GTX Pro is more than a t-shirt printer. The large gap between the print head and the substrate means you can easily print over seams, across zippers and on top of pockets.

Print Larger
The GTX Pro has the largest print area of any Brother DTG printer ever. With a maximum print size of 16" x 21", your designs can be bigger and bolder than ever. Extra thick items are no problem thanks to the adjustable platen height system.

Print Safely
The Innobella Textile inks used by the GTX Pro are water-based pigment inks that are Okeo-Tex Eco-Pass certified and CPSIA compliant. The innovative packaging uses less plastic thanks to the new replaceable pouches so there is less impact on the environment.

Print with Confidence
When you print and fully cure an item using the GTX Pro and Innobella Inks, you can be sure of its durability and washability. That's because Innobella Textile inks have scored 4.0 or higher on AATCC wash tests.
Print with Speed
High-speed print mode generates and increase in print speed of up to 20% compared to standard print mode.
Print with Efficiency
Bulk ink tanks are available in 1.8L and 18L sizes.
Print on your Schedule
The intelligent ink system keeps large volumes of ink in a constant state of readiness.
Print with Fewer Problems
An enhanced maintenance station reduces the overtime required for maintenance while the smart automated maintenance system minimizes clogged nozzles.
Print with Precision
High and low platen sensors ensure optimal printing clarity.
Print in Queue
The print reservation system enables the operator to send new files to print during printer operation for improved efficiency.
Print toward the Future
The Brother GTXpro B gives you the flexibility to scale up in short order to meet the demands of your growing business, but not before you have the volume to justify it.
Print with a Partner
Brother stands behind our products with a two-year limited warranty as well as a one-year bumper-to-bumper warranty. And we stand behind you with expert assistance and advice available when you need it.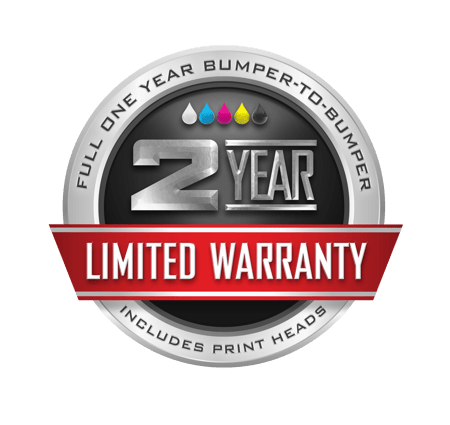 IS the
GTX Pro Bulk
for you?
Enter your info below and a Hirsch sales representative will contact you about adding the Brother GTX Pro Bulk to your DTG business.