---
automatic screenprint presses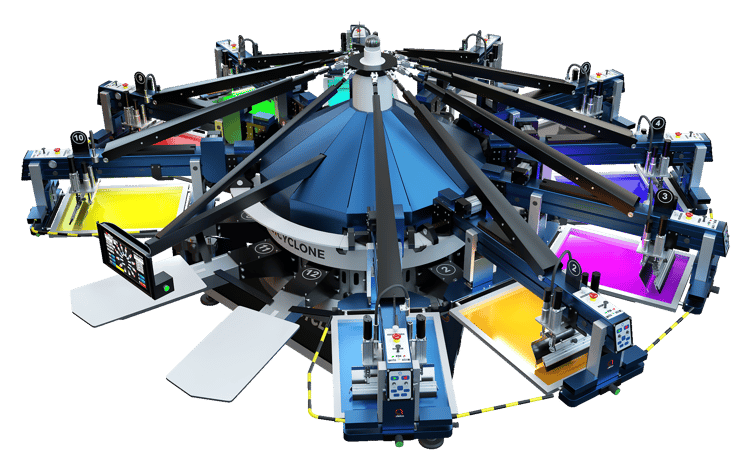 Adelco Cyclone Auto
Adelco's range of cyclone high-speed automatic printing presses are based upon robust, heavy-duty foundations to which bespoke lightweight aluminum extrusions and precision CNC parts are fitted with meticulous attention to detail. Adding to this our advanced control system enables our Cyclone Carousel to run with pinpoint accuracy at extreme speeds whilst still offering incredible value for money.
Overview- Main Features
Three sizes, Small medium, and large
PinPoint registration of <+ 0.02mm, designed for the most challenging screen and digital printing.
Optional built in LED lights integrated into the print heads provide unmatched visibility of screens during set up and production.
Three-way micro screen adjustment for easy set up
Standard solid high-grade lightweight CNC aluminum pallets with unique tool free quick release system and CNC print arms with unmatched pallet level tolerances.
Quick-lock, tool-free squeegees with angle adjustment and flood bars.
Twin chopper squeegee pressure cylinders provide tool free control of print pressures even with the most viscous ink systems
Individual horizontal screen lift at each print head – provides maximum ink stability, better screen visibility, and faster loading times as pallets remain at a constant height.
Rapid lock high-lift screen system provides easy screen cleaning access and loading of flashes into any print head position.
Servo driven main drive gives a fast, smooth index providing speeds in excess of 1000 pieces per hour
PLC controlled with HD touchscreen interface incorporating advanced features, simple setup, and full machine self-diagnosis.
Autostart, stop, sample, and rotovate flash programs
Strong and light custom extruded aluminum print heads and pallet arms give the perfect strength to weight ratio.
AC servo motors drive the print head for high torque fast smooth print strokes even at the slowest speed.
Load delay foot pedal
Various high-speed digital hybrid options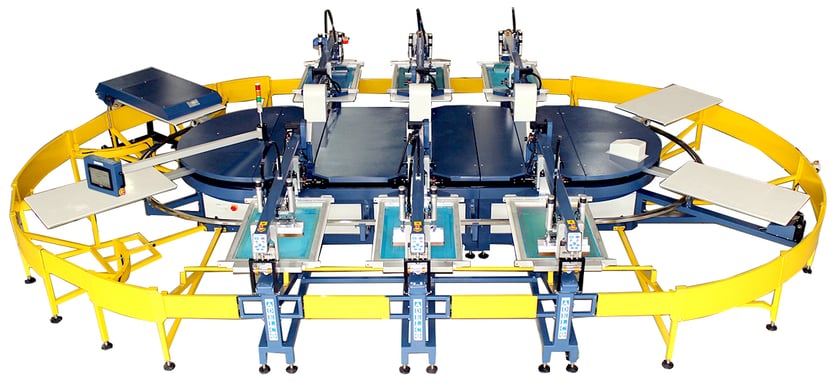 Adelco Ellipse
Adelco's name has been synonymous with automatic Oval printing presses since the early 1980s and since that time we have built and installed in excess of 100 units worldwide. The press is designed by a team of British engineers and built at our state-of-the-art manufacturing facility located near Shanghai, China. Available in three standard print size formats, the Ellipse Oval may be configured for almost any production requirement up to 52 stations.
Main Features
Chainless pallet drive system for extreme longevity and smooth pallet index.

Guaranteed lifetime registration* Our unique lock system which is located on every pallet arm, disengages the pallet from the drive mechanism ensuring consistent pin-point lifetime registration.

Servo driven printheads deliver exceptional speed and control torque, even at lower speeds our printheads feature adjustable screen chase, three-way responsive micro-registration, quick-release squeegee/flood blades, front and rear off-contact and leveling adjustment, a quick release high lift facility for rapid screen cleaning or flash cure docking. Every head is fitted with a touch panel control for all main printing functions.

Rigid pallet arms optimizing servo index, supported front and back during the print cycle providing zero pallet deflection. We offer a wide range of easily removable pallet styles and sizes.

Superior build quality heavy duty construction with front and rear support for both print head and pallet arms deliver exceptional print quality.

2-year limited warranty – The Ellipse Oval is covered by a 2 limited year warranty and supported by our global network of service agents and distributors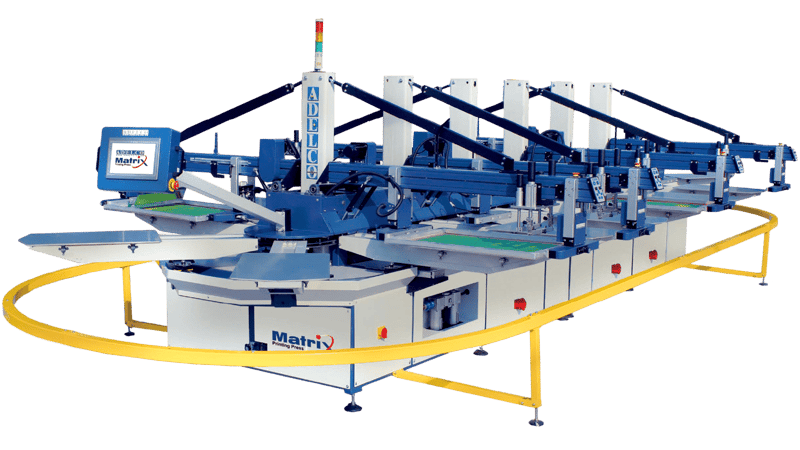 IS an
ADELCO PRESS
Right for you?
Enter your info below and a Hirsch sales representative will contact you about adding an Adelco automatic screenprint press to your business.
Get a Quote